Contact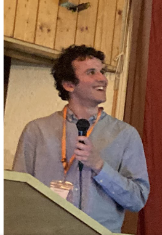 Name
Yannis Georis

Position
PhD student

Email
Address
Centre for Cosmology, Particle Physics and Phenomenology - CP3
Université catholique de Louvain
2, Chemin du Cyclotron - Box L7.01.05
B-1348 Louvain-la-Neuve
Belgium
Office
UCL member card
Projects
Research directions:
Active projects
Marco Drewes, Yannis Georis, Michele Lucente
We study the perspectives to probe the origin of baryonic matter in the observable universe with laboratory experiments. Currently the focus lies on low scale leptogenesis scenarios. A key element of our approach lies in the description of CP violating nonequilibrium processes in the early universe from first principles of nonequilibrium quantum field theory.